Wheels.  A great way to personalize your STR S2000, and get lots of performance from doing so.
For STR, you really want a nonstaggered setup with 9″ wide wheels all around.  The rules allow 9″ wide wheels, the S2k can fit them, therefore…max out the rules man!
From here you have a choice of 17×9 or 18×9.  You can go 18×9 and that is totally valid and can be just as fast, but you'll save a lot of money on tires and generally have a few more tire choices by going 17×9.  Therefore, that's what all the most competitive cars do.  So I'll focus on 17×9 wheels in this post.
In order to make a wheel like this fit in the front, you need a pretty specific offset that's not that easy to find.  That offset is somewhere in the +58 to +65 range.  +60 or +63 is the ideal.
So here are your choices:
These wheels are absolutely your best bang for the buck outside of used wheels retailing at around $170 each.  Weight is 19.2 lbs which is not the lightest of the bunch but it's not very heavy either.
These are one of the lighter cast wheels at 17.3 lbs and are a great choice.  Price is on the mid-high end in the ballpark of $300/wheel.
These are a solid mid-range choice at a price of $230-ish and a weigh about 19 lbs.  The finish is a bit delicate but they are great looking wheels.  The bronze is a unique color…very dark, like a mix of gunmetal and bronze.
Similar to the above, a mid range wheel that's a bit lighter than the Nurburgring at about the same price as a Nurburgring.  Weight about 18.0 lbs.
Now we're in the baller stuff.  This is the lightest currently available wheel.  14.8 lbs.  Costs a pretty penny though.  Other colors are available, I'm just showing bronze here.
Or another baller option, the RE30.  The weight is similar to the CE28N, I don't have an exact weight on them (post in the comments if you do!).  Other colors are available, I'm just showing bronze here.
Another expensive option, and these aren't really any lighter than the lightest cheapies, so the only reason you'd use these is if you got a deal or just really like them and Daddy Warbucks is your dad.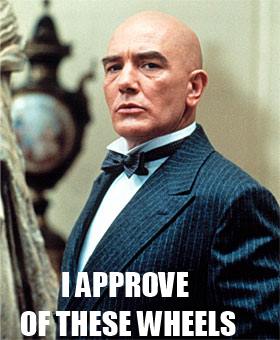 Advan RSII
These are kinda pricy but not to the extent of the Volks at $2240-$2415 per set.  The weights are fairly light but again nothing like the forged wheels.  They weigh 17.6 lbs.
So that's pretty much it.  I'm sure there are other Volk options but at least on the cheaper side of the spectrum that's all that's available.  There are some older discontinued wheels that are really great too, I'll go over them in a future post.  If you know of other wheels to add this feel free to list in the comments!
Facebook Comments